From the TeachingtheWord Bible Knowledgebase
Part four of a series. Read part three.
Roman church law says you must physically come to the Confessional booth. Biblical Christianity says that believers may come directly to the Throne of Grace in prayer, at any time and any place, to confess their sins directly to the Father.
The Confessional: Required by Catholic Canon Law
The Roman Catholic church has always insisted that confession of sin to a human priest, acting as judge in the "tribunal" of the confessional, is necessary for forgiveness of sin. The mandatory use of a confessional booth for this purpose did not become an official part of Catholic church law until 1983, when the Code of Canon Law was revised to require confession to a priest either in a confessional booth or an oratory (prayer room), except in extraordinary circumstances.1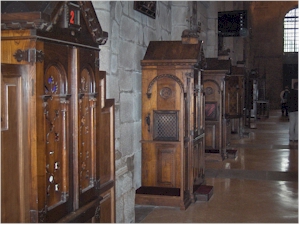 Roman Catholic church confessional booths
[An explanatory note: The Roman Catholic church considers its Canon Law to be superior to Scripture and one of the principal means of interpreting Scripture. This law code, officially The Canon Law of the Holy Roman Church, is the Roman Catholic equivalent of Muslim Sharia law. It is the law code of the Roman Catholic church-state. It is a fully-developed legal system, including church-state courts, lawyers, judges, a complex legal code, and written principles of legal interpretation. There are extensive written commentaries on the Canon Law. A specialized academic degree is necessary in order to be a Roman Catholic church lawyer, and advanced degrees in civil law or Catholic theology are prerequisites for the study of the Canon Law.2]
The Roman church is not the only one that uses confessional booths. Most "high" Anglican churches (generally referred to as "churches of the Anglo-Catholic tradition") also use the confessional. Ironically, in postmodern times many liberal Lutheran churches have also resumed the use of confessionals, as part of their movement in the direction of re-union with Rome.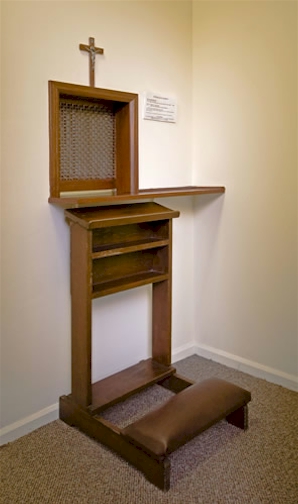 Confessional booth in a Lutheran church in Columbus, Georgia USA
What Does Scripture Say?
The key question is: Does the use of the confessional have any support in Scripture? The answer is that there is absolutely none. The Word of God invites - in fact, commands - every believer to come directly to the throne of God in prayer through the intercession of Christ alone, at any time and in any place, to confess your sins and to make your deepest needs known to the Father:
Or do you not know that your body is the temple of the Holy Spirit who is in you, whom you have from God, and you are not your own? For you were bought at a price; therefore glorify God in your body and in your spirit, which are God's. (1 Corinthians 6:19-20)
Now it came to pass, as He was praying in a certain place, when He ceased, that one of His disciples said to Him, "Lord, teach us to pray, as John also taught his disciples." So He said to them, "When you pray, say: Our Father in heaven, Hallowed be Your name. Your kingdom come. Your will be done On earth as it is in heaven. Give us day by day our daily bread. And forgive us our sins..." (Luke 11:1-4)
I acknowledged my sin to You, and my iniquity I have not hidden. I said, "I will confess my transgressions to the Lord," and You forgave the iniquity of my sin. For this cause everyone who is godly shall pray to You... (Psalm 32:5-6)
If we confess our sins, He is faithful and just to forgive us our sins and to cleanse us from all unrighteousness. (1 John 1:9)
There remains therefore a rest for the people of God. For he who has entered His rest has himself also ceased from his works as God did from His. Let us therefore be diligent to enter that rest, lest anyone fall according to the same example of disobedience. For the Word of God is living and powerful, and sharper than any two-edged sword, piercing even to the division of soul and spirit, and of joints and marrow, and is a discerner of the thoughts and intents of the heart. And there is no creature hidden from His sight, but all things are naked and open to the eyes of Him to whom we must give account.
Seeing then that we have a great High Priest who has passed through the heavens, Jesus the Son of God, let us hold fast our confession. For we do not have a High Priest who cannot sympathize with our weaknesses, but was in all points tempted as we are, yet without sin. Let us therefore come boldly to the throne of grace, that we may obtain mercy and find grace to help in time of need. (Hebrews 4:9-16)
Next: To whom must you make your confession?
References:
1. The Canon Law of the Holy Roman Church, 1983, Canon 964.3.
2. "Canon Law," Catholic Encyclopedia, http://www.newadvent.org/cathen/09056a.htm
tq0309